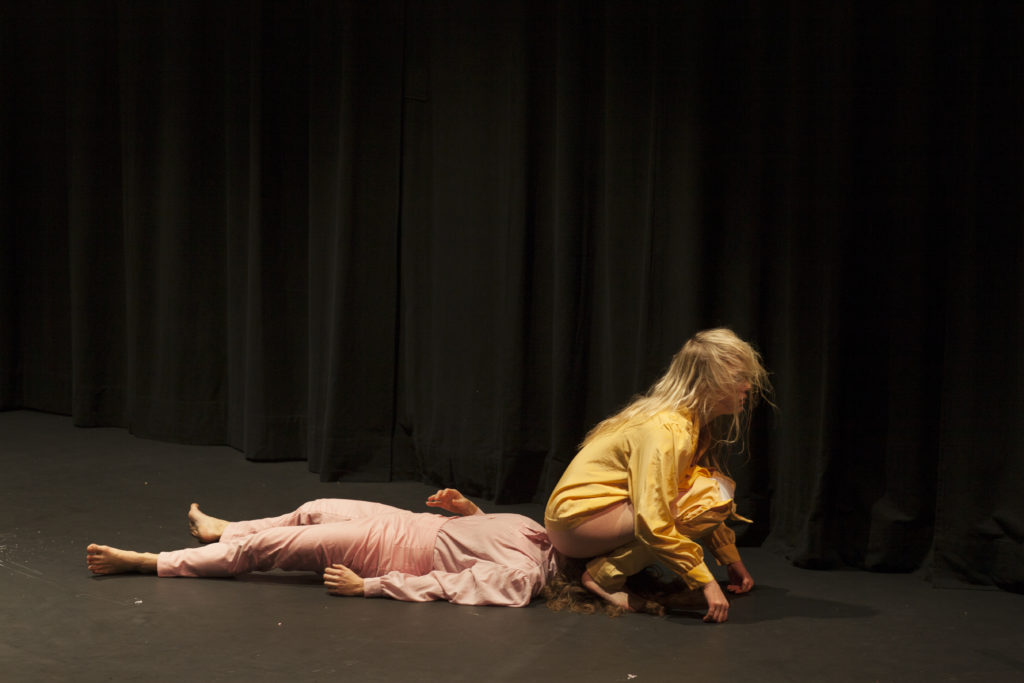 PERSONAL SYMPHONIC MOMENT (2013)
Personal Symphonic Moment is a work to be a kind of "autopsy" of Shostakovich's famous Leningrad Symphony. The approach to this famous composition, which is played in its entirety during her performance, is both very precise and consciously distorted, creative as well as destructive, faithful as well as entirely spontaneous. Shostakovich's most famous symphony, composed in 1942, is usually interpreted as an expression of the struggle against fascism, but it also contains a strong personal condemnation of all forms of tyranny, including the Soviet dictatorship.
The choreography responds to the composition's emotional and dramatic force in a highly personal manner. Three female dancers (including the choreographer) move about a darkened, inhospitable stage, led by the music to engage in impulsive, sometimes bizarre or grotesque movements that seem to express the performers' physical experiences and states of mind. Instead of illustrating the composition, the choreography builds its own parallel world next to it. The aim is to perform an "autopsy" of the famous work in order to present primitive (conscious as well as unconscious) feelings of decay, consolation, regret, beauty, senselessness, eroticism, failure, banality, anger, and sentimentality. For just a moment, high art meets a celebration of banal personal experience.
In 2014, Personal Symphonic Moment earned Elina Pirinen the Critics' Spurs award (presented every year by the Finnish Association of Critics) for its "forceful and original choreography" and Prix Jardin d´ Europe in ImPulsTanz festival 2015.
CREDITS:
Choreography: Elina Pirinen
Dance: Suvi Kemppainen, Aino Voutilainen, Elina Pirinen
Lighting design: Heikki Paasonen with the original design of Tomi Humalisto
Texts: Heidi Väätänen
Sound designer: Pauli Riikonen
Music: Dmitri Šostakovitš, 7. Symphony performed by Mariss Jansons and Leningrad Philharmonic Orchestra 1988
Costume design: Elina Pirinen with Mila Moisio and Kaisa Rissanen
Visitor on stage: local golden retriever puppy and the care taker
Production: Zodiak – Center for New Dance, Moving in November-festival, Elina Pirinen
Zodiak residency in collaboration with: WorkspaceBrussels / Summer coaching residency, Kone Foundation, Finnish Cultural Institute for the Benelux
Premiere: Moving in November –festival 2013 in Zodiak-Center for New Dance   
Supported by: Samuel Huber Foundation, Finnish Culture Foundation, Kone Foundation 

TOURS:
Mousonturm, October 2014 Frankfurt
ImPulsTanz, July 2015 Wien
Tanz im August, August 2015 Berlin
Next- festival Buda, November 2015 Kortrijk
Nordwind- festival November/ December 2015 Dresden/Hellerau + Hampuri/Kampnagel + Bern/Damfzentralen
Oslo International Theatre festival, March 2016 Oslo
Joyce Unleashed New York Live Arts June 2016 New York
Spring festival, May 2017 Utrecht
4+4 Days in Motion , October 2017 Prague
Reykjavik Dance festival, November 2017 Reykjavik
MDT Stockholm, May 2018 Stockholm
Images and teaser: Timo Wright
Complete performance documentation on request.